With the latest firmware of the DJI Mavic Mini, it is now possible to take pictures in manual mode. This opens up possibilities for rendering your images in a more cinematic way. It is time to equip the drone's camera lens with an ND filter.
We use affiliate links and may receive a small commission on purchases.
Why ND filters for shooting with a drone?
In video, there is the rule of 180 degrees linked to the shutter speed (note there is also another rule of 180 degrees in television and cinema, that's another subject) which says that the shutter speed must be twice the frame rate. For example if you shoot in 25 frames per second, then you will have to set your shutter speed to 1/50 s, if you are at 50 fps, then it will be 1/100 s, etc., in order to obtain the most cinematographic rendering and obtain for example a natural motion blur.
It's the same thing when shooting with a drone, but it's more complicated because in general the aperture is more or less fixed and it is very fast (like f/2.8), hence it is impossible to set a low shutter speed in order to keep this cinematographic rendering as much as possible. This is where ND filters play a vital role in gaining multiple stops by lowering shutter speeds.
Freewell Standard Day ND Filters
Even though the Mavic Mini is relatively new, there is already a fairly large offer in the field of ND filters for this drone. As a general rule, it is better to avoid first prices and no name products, because although a filter is a simple equipment at first glance, it is still an optical component which must be of good quality to get the best results.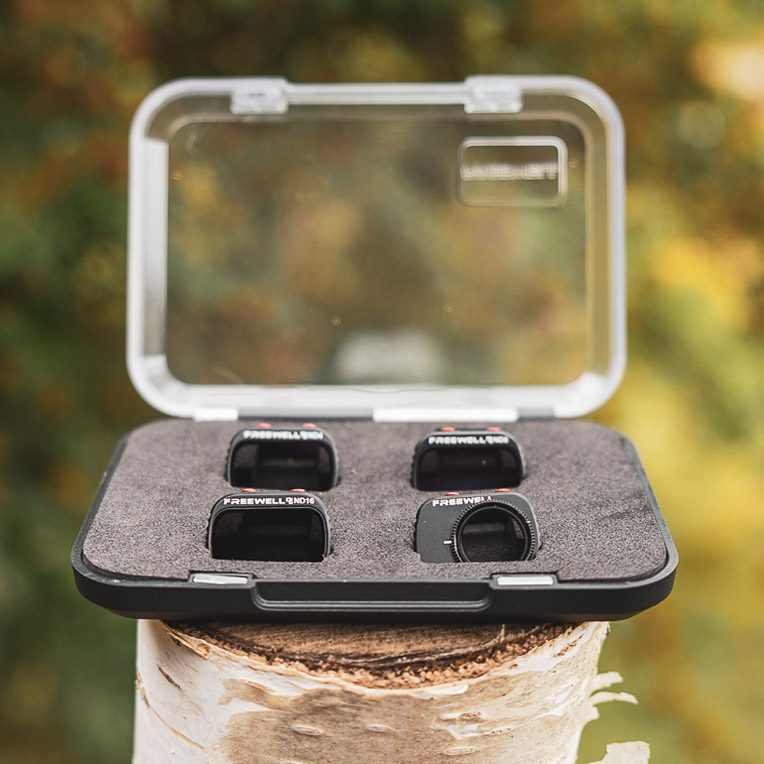 Freewell is a Hong Kong brand specializing in accessories for drones, action cameras and smartphones that manufactures quality products, including filters for our Mavic Mini. We took their Freewell Standard Day ND filter pack which is a good base for sunny to cloudy day shots. The content of this standard filter kit includes the following filters: ND4, ND8, ND16 and a CPL.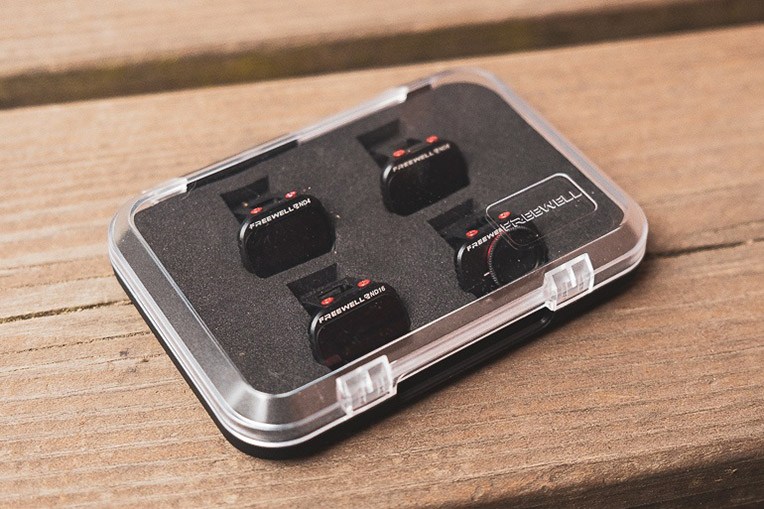 The 16-layer optical glass used by Freewell is razor-sharp, reducing glare to improve aerial shots. GIMBALSAFE technology allows easy installation/removal of the filter without risk of damaging the gimbal and its minimal weight does not affect the calibration of the latter.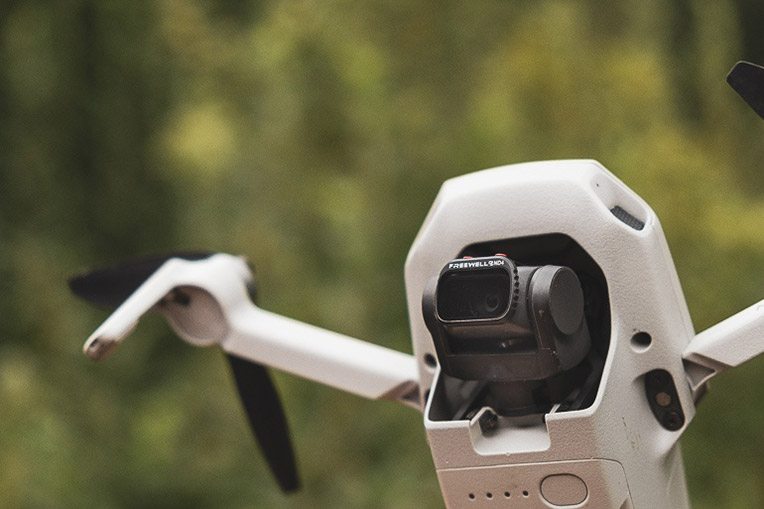 The 4 filters are presented in a small box measuring 9.8 x 7.8 x 2.4 cm which fits easily into the Fly Combo case of the Mavic Mini.
The 4 Standard Day filters in detail
ND4 filter
The Freewell Gear ND4 filter helps slow down the shutter speed of 2 stops. This is excellent for capturing crystal-clear photos when the weather is overcast or quite cloudy, with lower daylight.
ND8 filter
The Freewell ND8 filter is designed to reduce the amount of light hitting the camera sensor, which slows the camera shutter speed by 3 stops. This is extremely useful for capturing crisp, lifelike images, especially in cloudy daylight conditions.
ND16 filter
The Freewell ND16 filter decreases the amount of light entering the camera lens by etail. This is useful for perfectly balancing the image and capturing sharp images in normal daylight conditions. In addition to slowing down your shutter speed, ND filters are also effective in preventing the unwanted "Jell-O" effect that is often seen in footage captured without ND filters.
CPL (Circular Polarized Lens) filter
The Freewell CPL filter is excellent for preventing unwanted glare from reflective surfaces, such as bodies of water, snow, or even glass windows.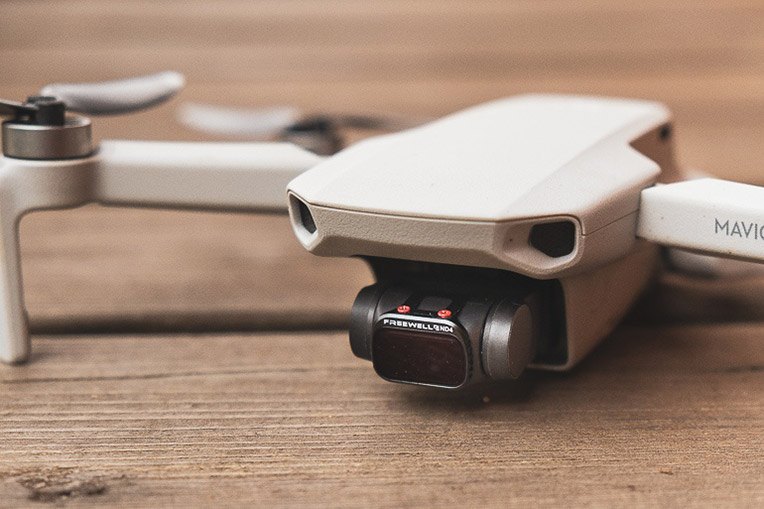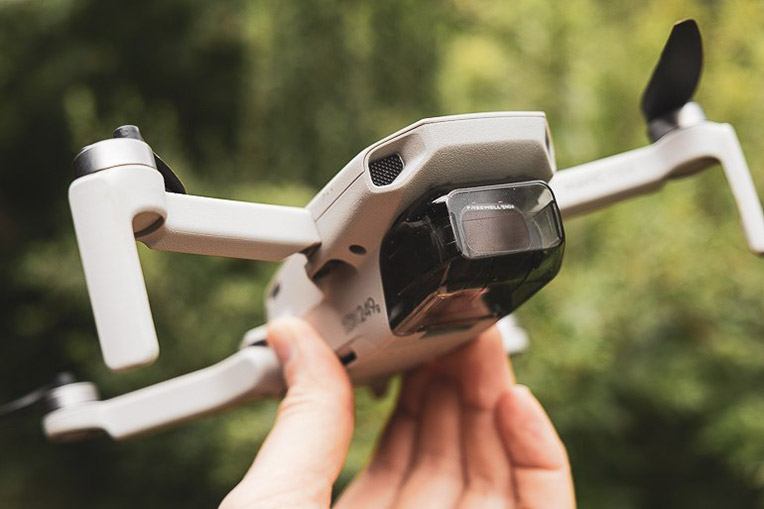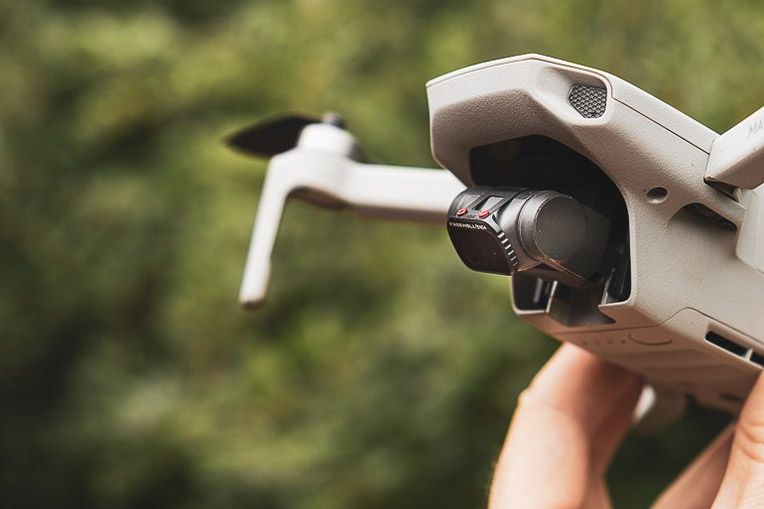 Although ND filters are not essential for filming with your drone, they become essential when you want beautiful images with the most cinematic effect possible. This pack of Freewell Standard Day ND and CPL filters is a very good product, combining quality of manufacture, solidity and rendering. Perfect for normal days, from cloudy to sunny days, but not overly sunny either, for very bright summer days